Learn how to prepare your basswood block to become a Wood Spirit  Cane and Walking Stick Carving Project. Another absolutely FREE, in-depth, step by step wood carving project by Lora S. Irish!
The second  chapter in Lora Irish's Great Book of Free Carving Projects and Patterns –
"Wood Spirit Carving"- Walking Stick Preparation
Sharpening Your Wood Carving Tools
Properly sharpened tools not only make wood carving easy, they make your carving cuts safer.  A dull bench knife or chisel will grab into the wood cut, forcing you to add more pressure to complete the stroke.  That extra pressure can cause the tool to pop-out or slip out of the wood, a potential danger that can end up with a cut finger.
Sharpening is not a hard process, but there are some simple techniques that you need to learn as a wood carver.  For more free information of sharpening your wood carving tools, please visit my blog, LSIrish.com.
Sharpening Bench Knives – Explore the basic process and supplies needed to sharpen your wood carving tools.

Sharpening Round Gouges – Discover how easy it is to create a honing board for your round gouges and v-gouges.

Convert a Straight Chisel to Bull Nose Chisel – Learn how to alter the angle and corners of a straight chisel to better meet your carving needs.

Sharpening Stones – A quick look at the range and variety of sharpening stones you can use in your wood carving hobby.

Sharpening Your Chip Knives – See how to get the correct angle on your bench knives or chip carving knives.
I have checked my tool edges for sharpness, and run them over my leather strop and honing compound a few times to brighten the edge. So, I am ready to carve.

Easy Steps to Sharpening E-Project By Lora Irish
86 High resolution, large photos let you see each and every stage
to developing the best cutting edge possible.

Drilling the center anchoring hole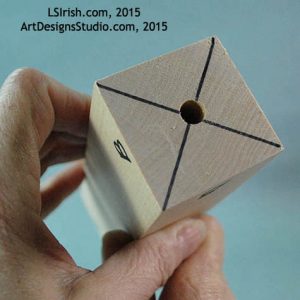 Since my wood spirit is destined to become a walking stick topper, the first thing I want to do is drill a 1/4″ or 3/8″ x 2″ hole in the center bottom of the practice block. You can use a dowel jig for this step to ensure that the drill goes squarely into the wood.
After the carving is complete I can use a dowel pin to center the wood spirit to my walking stick staff, and drill the receiving hole.

We have a free 16-page PDF E-Project for you on
how to create the strongest joint between your
wood carving cane topper and your walking stick.
Walking Stick Joinery by Irish


Copyright, Lora S. Irish, Art Designs Studio.com, 1997 – 2015
All International Rights Reserved
Use of any information, images, or text in
digital or printed format or in any magazine, book, or booklet
is strictly
prohibited without
the written, hardcopy permission of the author, Lora Irish.
---