Variable temperature tool systems
Variable temperature systems have a dial thermostat that allows you to control how cool or hot your tip is. You can adjust the temperature setting quickly making it easy to control your tonal values in your project.
This style has two types of pens – the fixed tip pen where the tip is permanently set in the hand grip and the interchangeable pen where different wire tips can be used with the hand grip.
There are many excellent burning systems available to the hobbyist, which manufacture you chose depends on your budget, your pen style preferences, and what is available to you locally or online.
Pen Tips
The four pen tips above create a basic set that will do every type of shading and detailing for your pyrography work. Each wood burning unit manufacturer has their own specific name or number for their tips. Please refer to their websites.
Ball tip – top. The ball creates a fine thin detailing line when set at a medium-low temperature setting. As the temperature is increased the width of the line increases. A ball tip can also be used as a shading tip by using tightly packed lines or textures.
Hair tip – second from top. This thick wired tip has a crisp triangular shape the creates wonderful varying thickness lines, perfect for animal hair and for heavier detailing.
Spear point – third from top. The spear is a thin edged, pointed tip that moves through curved detail lines easily. This is the style tip to use for very fine line work.
Bent spear shader – bottom. The flat of the spear lies against the wood during work to create an even layer of shading and toning in any area of the work
Tool tip cleaning
Emery cloth
Silicon carbide cloth
Fine steel wool
leather strop & rouge
It is important to keep your tool tips well cleaned during any burning session to insure even heat to the tip and consistent color tones to your burning.
As you work you will notice that the tool tips will become dark or dull as carbon from the burning builds up on the wire.This carbon can affect the heat coming from the tip to the wood and it can leave black carbon smudges on your work.
Whether you are using a one temperature tool or variable temperature system you will need to clean the tips of your tools often to remove the carbon build up.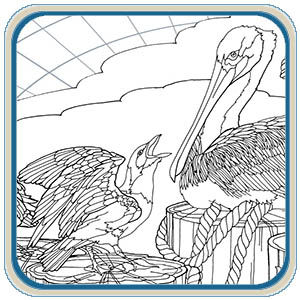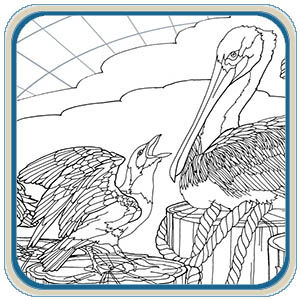 Seashore and Ranch Signs pattern package, ArtDesignsStudio.com. The Seagull Mantel sign package contains one pattern features six seagulls and one pelican sitting on a row of roped piers.