NEW RELEASES
From Lora S. Irish!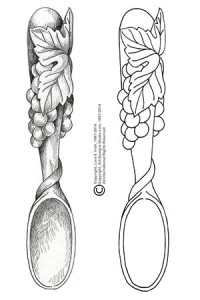 Welsh Love Spoons by Lora Irish
Try It Before You Buy It
Free Carving Patterns by L S Irish
Just click on the link above, download to your computer, and be carving tonight!

Package includes all four views for both the shaded drawing and patterns to carve your own Grape Handle Love Spoon.
Please visit our blog at LSIrish.com to learn about the wonderful art style of Welsh Love Spoon Carving.
Download notes:  Please click on the link above, in the pop-up menu save your file to your desktop.  Return to your desktop, double click on the Welsh Love Spoon zip file, which will open a new folder.  Drag and drop the Welsh Love Spoon folder inside the zip folder onto your desktop.  Open the folder and you are ready to print your patterns.   Save the zip file to your folder My Documents, it can be reopened time after time.

.

Free Spring 2014 Pattern Package!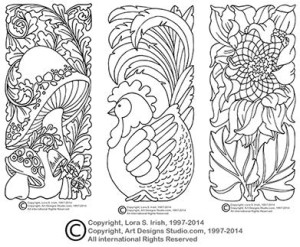 Download Here!

Free PDF downloads by Lora Irish!
Blue Heron Pyrography
Pyrography Leather Journal
Your First Carving
Levels in Relief Wood Carving
Fretwork Butterfly Quilt Art

Visit LSIrish.com for more great
projects, patterns, & ideas.

All of your favorite, free online tutorials and projects,
plus many new ones for quilting, paper scrap booking, colored pencil,
and painting are posted on her blog LSIrish.com.
________________________________________